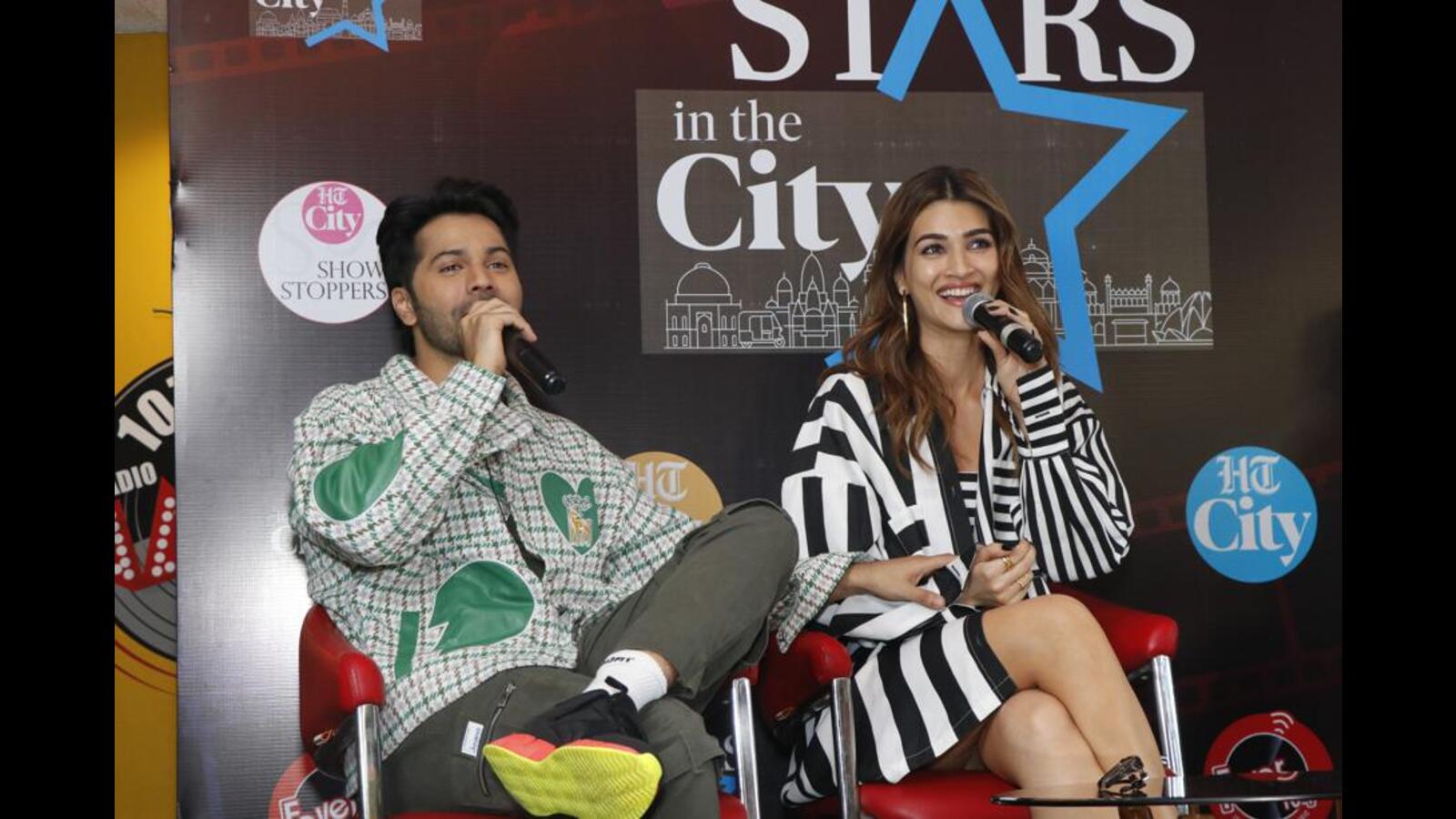 Varun Dhawan and Kriti Sanon howled, laughed, danced and kept the fun quotient high during their recent visit to Delhi to promote their latest film, Bhediya. The actor visited HT House to meet the winners of Stars in the City contest and fans were in awe of their fave stars being their candid best.
In conversation with Sonal Kalra, Chief Managing Editor (Entertainment & Lifestyle), Hindustan Times, Sanon started by sharing her excitement as she visited her school after 15 years. "I was very excited… It was also the first time [I went there] after becoming an actor, so it was so much fun. Not much had changed. It felt the same. It was nostalgic and a proud moment for me to go back to my roots… to the place where I started," shared the actor, who revealed that she was a shy kid and had stage fright, but that never stopped her from participating in things.
Talking about the film and all praises for director Amar Kaushik, Dhawan mentioned how the story of Bhediya is so unbelievable yet convincing. "Amar has beautifully married a wonderful story with best quality of VFX. The VFX quality in the film is something we can be really proud of. I don't even want to say I hope I am right, I know I am right. I haven't felt so strongly about one aspect of my film since the start from my career," he said and garnered applause from audiences for his conviction and confidence in the film.
When Sanon was asked about the comparisons being made with Tokyo from web show Money Heist because of the short hairdo she sports in Bhediya, the actor made a rather interesting revelation. "I think more than Tokyo, it's inspired from my childhood. When I saw my childhood picture, it looked like me and I said, 'Waise ke waise badi ho gayi hu'. And as an actor, it's a great opportunity to completely transform your look for a character and be someone you can't even recognise," she said.
As soon as the floor opened for questions, many fans who had met Dhawan and Sanon before, just couldn't contain their excitement.
One of the winners asked Dhawan to pick a favourite between is Student of the Year co-star Sidharth Malhotra and Jug Jugg Jeeyo co-actor Kiara Advani. The actor took Sidharth's name and quipped, "Even Kiara would be happy with my answer. But SOTY was my film, so Sidharth, and even Alia would always remain special." When the winner, on behalf of Varia (Varun & Alia) fanclub requested the actor to work with Alia again, he said that, "Now that you've said, I will definitely try to make it happen soon".
Another winner, citing example of recent Bollywood films and their poor performance at the box office, asked the actors about what makes Bhediya stand out. Dhawan responded, "People are expecting a good and fresh story and our film offers that. Jo chalta hai aur nahi chalta wo hamare haath me nahi hai, but we have definitely made something very interesting." To this, Sanon added that Bhediya is meant for a theatrical experience. "It cannot be enjoyed on TV. It's one those films that should be watched in theatre with other people. I hope that the film does really well, but regardless of the results, I will be very proud of it."
Concluding the session on a musical note, the actors danced on the trending song Thumkeshwari from their films and it was nothing short of a treat for their fans.