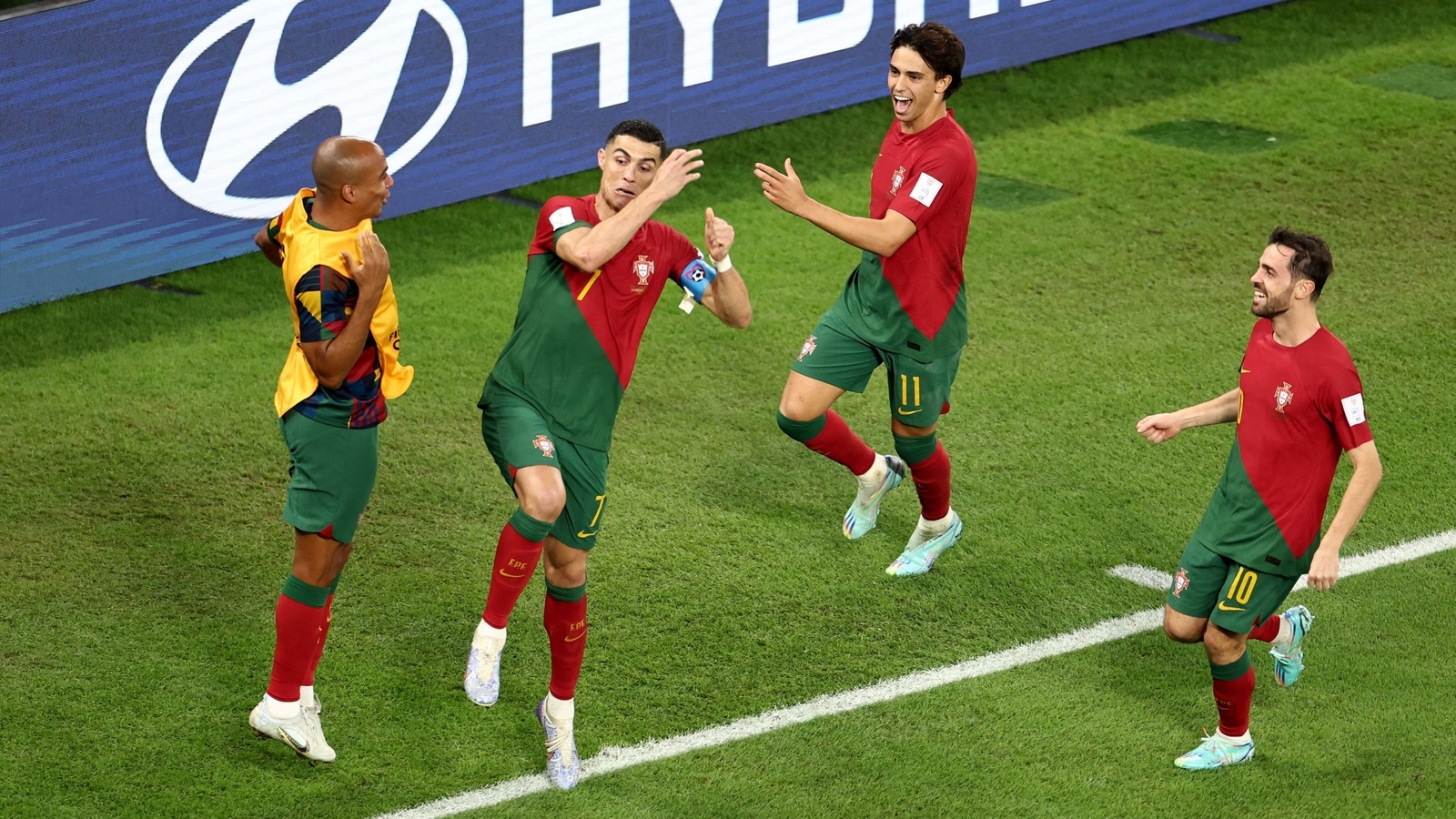 Fortieth minute. Cristiano Ronaldo dropped deep, arms spread slightly, torso taut, and asked for the ball. He didn't get it but by moving into the middle third had dragged a Ghana player with him. Into the space vacated slipped in Bruno Fernandes to whom a long ball was aimed. Minutes later, Ronaldo did it again and this time it was Joao Felix who was front and centre. Neither move fetched any tangible reward but it was an indication, an alternate way of playing possibly for Portugal. One they would need to get used soon.
Ronaldo scored off a 65th minute penalty to become the first man to score in five World Cups but he looked every bit the player who has spent a lot of time on the bench. Andre Ayew stabbed home the equaliser in the 73rd after Mohammed Kudus' pass from the right ricocheted off Danilo's leg but Joao Felix scored in the 78th and Rafael Leao in the 80th , both off assists from Bruno Fernandes and both after Ghana lost the ball cheaply in the midfield. The lead-up to the first goal may have been contentious but Portugal's second and third goals stemmed from slick passing moves and desire to do the dogfight for the ball in the middle.
Osman Bukari's 89th minute header added a touch of drama to this game of late goals but 3-2 was how it stayed at the final whistle after over 10 minutes of added time though almost ion the final whistle Portugal got a scare when goalkeeper Diogo Costa lost possession.
Both Fernandes and coach Fernando Santos had fielded a volley of questions from the media on Ronaldo on Wednesday. Both had said the noise around their captain had been deflected off the Portuguese base like it was under a security shield. But Santos also spoke of how a number of players being without clubs had affected the team in Russia. One player was seen talking to the head of security about it, he said. That is not the case this time around, the coach said. Now we have a good environment, he said. "I can't remember when I had seen a group this integrated. The joy, excitement, focus is evident," said the coach.
All of what Santos had said was evident against Ghana at Stadium 974. One game before Brazil started in the World Cup, the team called the Brazilians of Europe did. It is a team where Fernandes and Bernardo Silva pick straws to decide who will take free kicks. It is a team where Felix operates on the left, one where Rapahel and Joao Cancelo can bomb down the flanks and for whom Otavio so twisted Ghana out of shape in the midfield that he needed to be felled.
But it is also a team that has Ronaldo. Four years older from the player who scored a hat-trick against Spain in Russia, an individual hauling his team to level terms with a single-mindedness of purpose. Now, he seems a player who hasn't kept in touch with the times. Pressing has become universal, Arsene Wenger has said here. Ronaldo doesn't do that. Never before has football been more about the collective but for Ronaldo, it often stays an individual pursuit of glory. One he used to be very good at once. But since Russia, Juventus and Manchester United have scored less when Ronaldo had played regularly. It was said in Italy that Juventus were a team before he arrived.
A heavy touch was how Ronaldo began the evening and it was that again in the 10th minute which meant that through on goal, he couldn't beat Lawrence Ati Zigi. A header that lacked power followed in the 13th and when he did 'score' in the 31st, it was disallowed because he had pushed a player en route. In the 54th minute, he tried a cross that was easily blocked and in the 82nd was in a one-on-one situation with Zigi but from an off-side position. Ronaldo was substituted when Portugal looked to be in control and went through the final moments on the touchline, his expressions mirroring how the game was going for Portugal. But this game also showed that there can be life for Portugal beyond Ronaldo.